Streamline operations

for bank employees
by giving them the functions they
really need
Banking teams use a range of tools that offer a variety of specialized functions. A single monolithic tool does not satisfy all needs the way each of these applications does separately. On the other hand, working in an ecosystem of scattered tools can be burdensome and inefficient. The Eximee Dashboard is a way to centralize access to all these tools and quickly deliver new and extend the existing functions.
Eximee Dashboard


in a nutshell
Eximee Dashboard is a module for adding new applications to employee interfaces. By default, it comes with other pre-built modules, such as Eximee Case Management and Eximee Customer Service Zone, as well as reusable components providing additional functions like notes or a calendar. Subsequent applications can be developed by the Eximee team, bank employees from different business domains, or third-party vendors. They can be embedded as microfrontends in a CRM or any back-office application.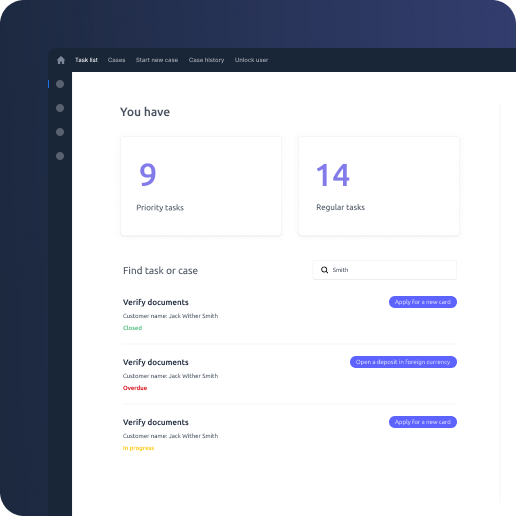 Applications embeddable
in the
Eximee Dashboard
Eximee modules
Eximee Case Management
a module for handling digital business processes. It includes, among other things, a task list and case overview features.
Eximee Case Repository
a place where an employee can view the statuses of all customer cases, regardless of what system, application, or process they are handled in.
Eximee Customer Service Zone
a module for managing a portfolio of products and a list of customer issues and self-service options. It is also a source of information on how to handle particular matters in a bank.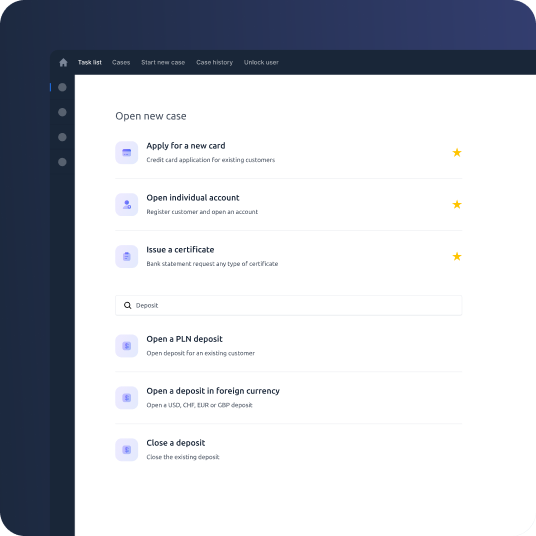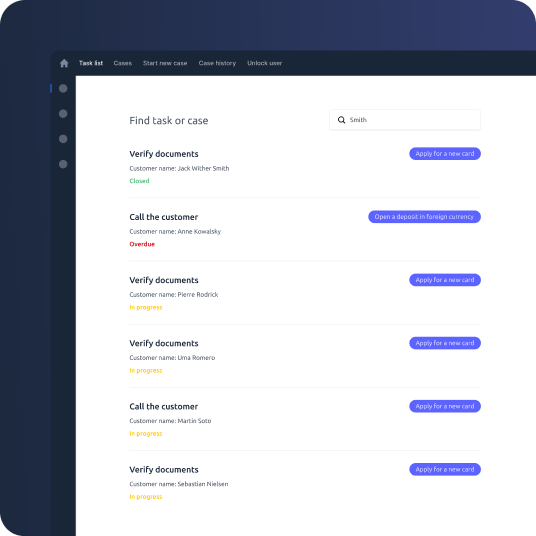 Workflow-independent apps
providing additional functions
Eximee business applications
applications built using the Eximee low-code platform. These can be entire business processes (e.g., loan approval process), functions that support specific business processes (e.g., manual scanning of signed documents), integrations with external systems, or forms.
Custom applications
applications independent of the Eximee platform, delivered as microfrontends, e.g., an application for billing bonuses on sales in bank branches. Simply add the function to the dashboard and let your employees use it without additional training or authentication.
Flexible

business configuration
With business configuration capabilities, you can specify which applications, modules, and functionalities should be accessible to specific groups of employees based on granted permissions, business domains, departments, or even location. You can also configure the layout of the start page, i.e., tiles or a menu for switching between functions.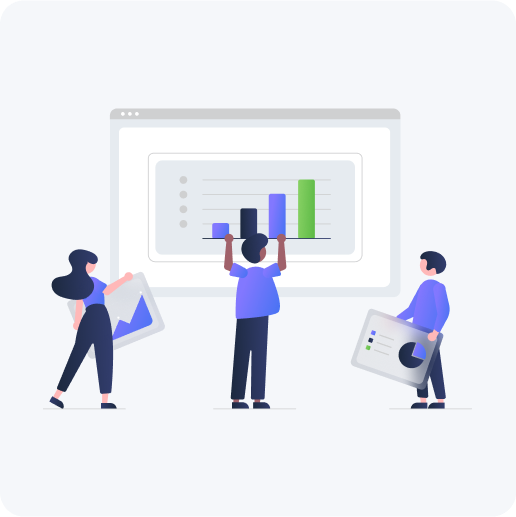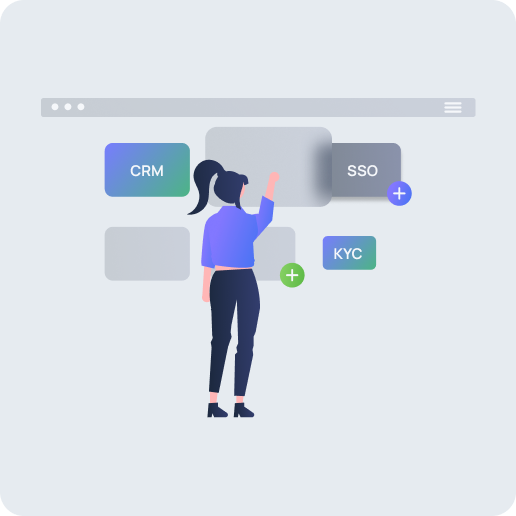 Solution tailored to
your infrastructure
The Eximee Dashboard only needs a one-off integration with the existing banking environment. Its open architecture means you can use the Eximee modules and applications in multiple places. They can be embedded in a CRM, branch application, or other systems. For instance, you can add a task list or case overview functions to your CRM.
Moreover, the Dashboard can be coupled with an employee authentication system, such as KeyCloak, and support SSO.
Eximee Dashboard

highlights
Framework
pre-built application templates and guidelines on embedding new functionalities
Tool stack
ready-to-use tools for bank employees 
Easy distribution
make the application available only to call center or selected branch employees or business team
No vendor lock-in
add new elements and configure them on your own or use the help of third-party vendors
Reusability
business and custom apps (e.g., an application for adding notes) can be used in different processes
Flexible configuration
layout customization and access management
Application to support front-office and back-office staff
At Eximee, we know banks need to ensure a good Employee Experience to provide efficient customer service. Therefore, we have developed a framework to create business applications that bank employees need. In this success story, we describe how we streamlined Santander Bank's employees' work with an application developed using the Eximee platform.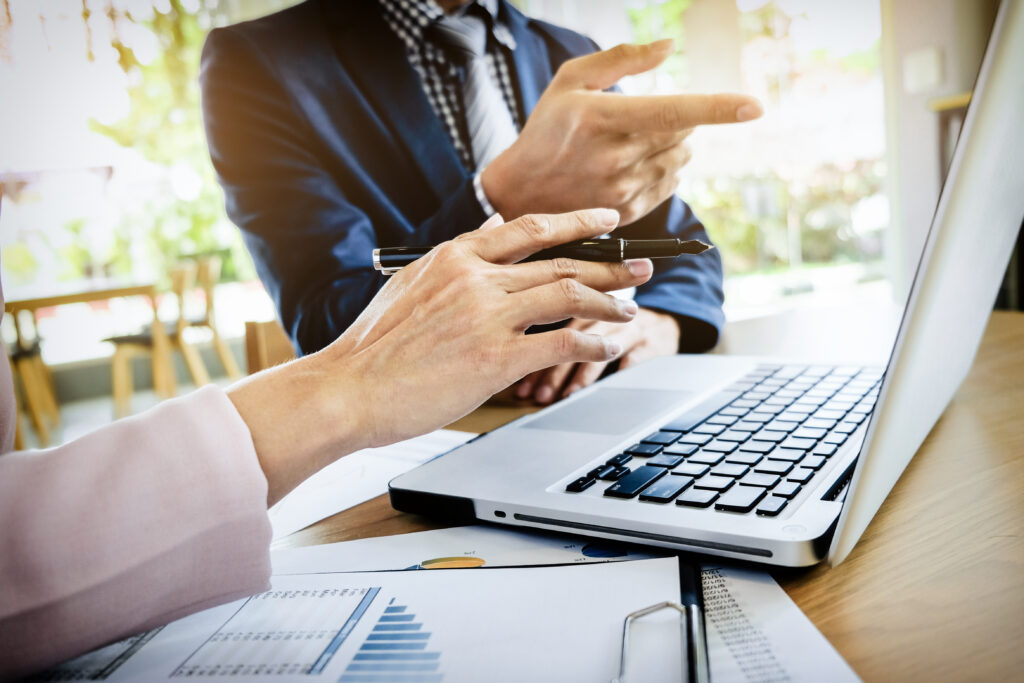 We appreciate that with the Eximee platform, we can develop modern sales scenarios in the digital world. An additional advantage of the Eximee platform is that it is a fully omnichannel application. Both our customers and employees work on the same application. It facilitates interactions between our employees and customers. I highly recommend it.
Marcin Łaziński
Manager of Omnichannel Experience Optimization Department, mBank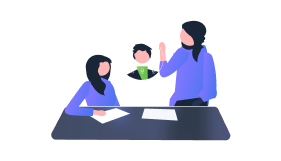 Step 1
Discovery meeting
We discuss the current state of your processes, digitization and automation capabilities, and possible solutions.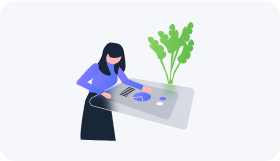 Step 2
Analysis
Together we choose the process to digitize and develop a plan.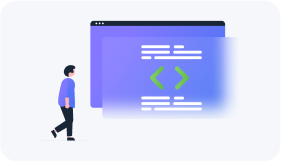 Step 3
MVP & Evaluation
We develop and implement the application, evaluate the results, and decide which processes to digitize next.