Create
customized surveys

and get
actionable

customer feedback
In order to provide your customers with the highest quality services, eliminate friction points in processes and increase conversion rates, banks have to collect reliable feedback. Regardless of whether you want to measure overall customer satisfaction with an NPS score, need a CES survey to investigate the ease of using a particular feature, or are legally obliged to develop a complex questionnaire such as MiFID, the Eximee
low-code platform enables rapid development and omnichannel distribution of surveys.
Collecting
customer feedback
Business

contextualization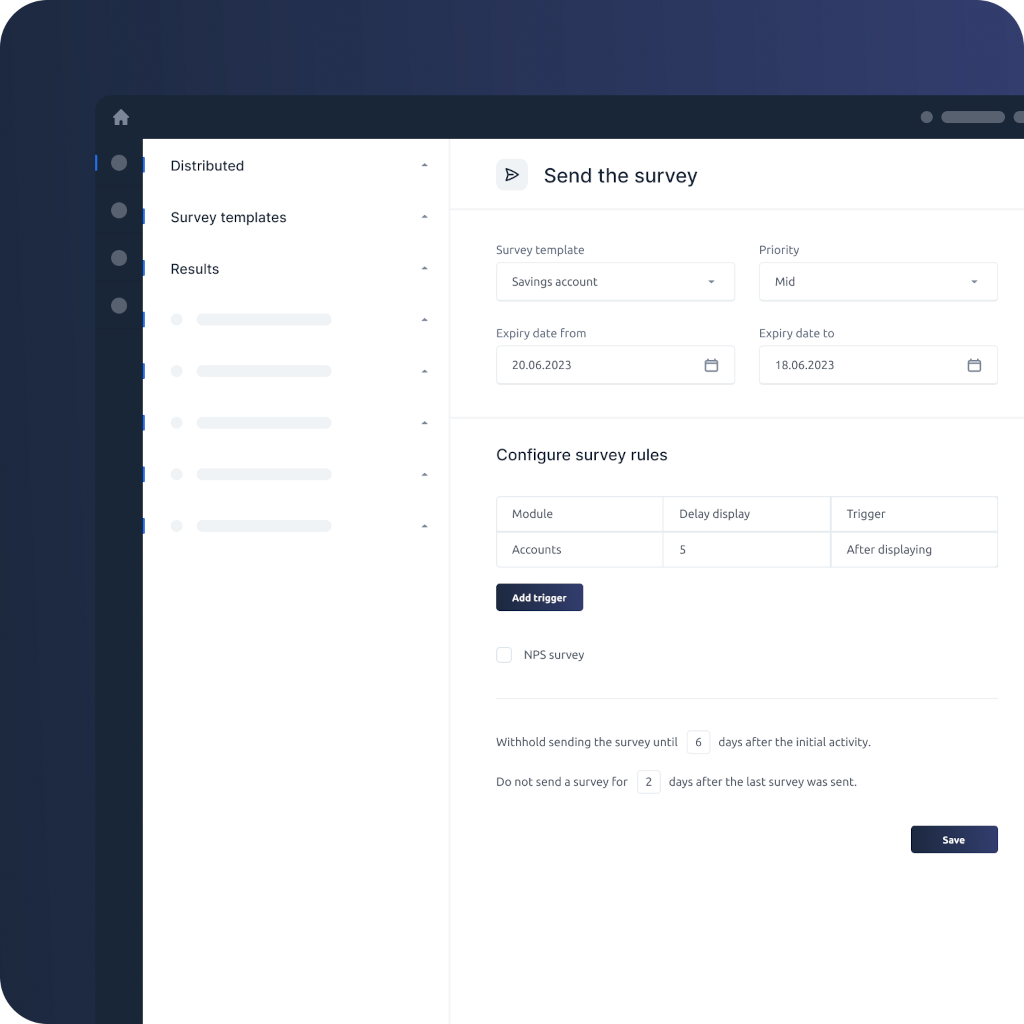 Rule-based surveying
The Eximee low-code development platform enables conducting customer surveys in a business context. Business context is information about customers and their products. It helps determine when and how a survey should be administered. It can also be used to tailor a survey using
an in-depth analysis of a customer's profile.
Thanks to contextual parameters, you can embed surveys at specific points in the process (e.g., a survey on a mortgage application form once a positive credit decision has been issued), define customer groups the survey should be distributed to (e.g., only VIP customers), or condition a survey on the actions taken by a customer (e.g., evaluation of electronic banking by customers who have made a transfer of more than EUR 10,000). To avoid overwhelming customers with insistent requests for feedback, you can configure breaks between surveys.
Contextualized survey results
On top of ratings, you receive detailed information about customers (e.g., what segment they belong to, how often they log into the application, if and when they have been surveyed), so that you get ground to conduct quantitative as well as qualitative analysis and assign more weight to reviews given by customers whose opinions are most relevant. You can analyze the results from individual surveys, group them, apply filters, and make comparisons. Most importantly, you can immediately respond to identified issues and address customer concerns without waiting for a formal report.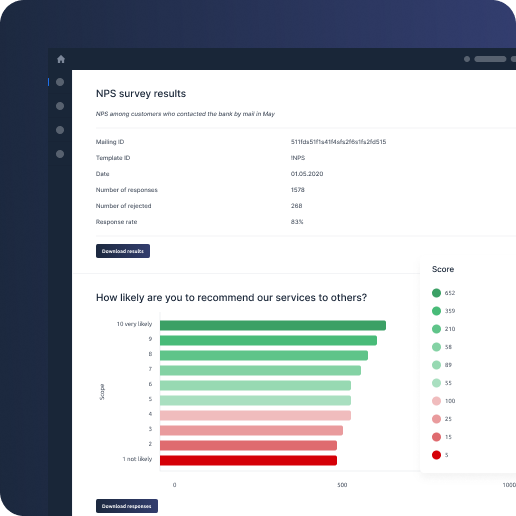 Feedback analysis

and response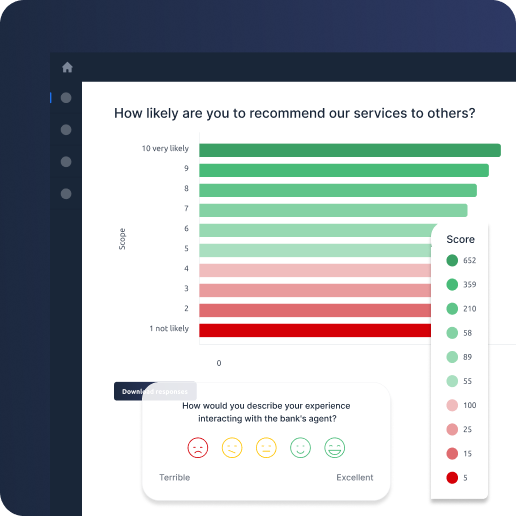 Presentation of survey results
The Eximee low-code platform provides several options for presenting survey results.
The first option is an analytical dashboard in the bank employee's application, containing visualization of the collected data and contextual information that enables analysis of specific customer groups. If a customer is contacted as a result of a hot alert, a call center employee may add notes from the conversation to build a complete feedback history across the customer lifecycle.
The second way to present the results is to export the data to an external file (CSV).
The third possibility is visualization of the collected data using Grafana or a similar tool. It's also worth mentioning that a bank may expand and add custom charts as needed.
Hot alerts and a closed feedback loop
Use contextual information to respond instantly to negative feedback. All you have to do is define the criteria triggering hot alerts, and the call center will be notified they should contact a given customer immediately. Apart from enabling a quick response to negative feedback, hot alerts help detect system bottlenecks and identify missing features.
A customer wants to wire money, but the country to which they wish to transfer funds is not included in the drop-down list. The customer gives negative feedback. Thanks to the contextual data, the system recognizes the person as a regular customer who usually evaluates the system positively. It suggests the occurrence of some extraordinary circumstances worth investigating. The call center gets a hot alert and contacts the customer immediately to learn about the reason for the negative opinion. Once a bug has been fixed or a missing feature has been implemented (e.g., a country is added to the list), the loop can be closed by contacting the customer again to let them know the issue has been resolved and encourage them to make another attempt to perform the operation.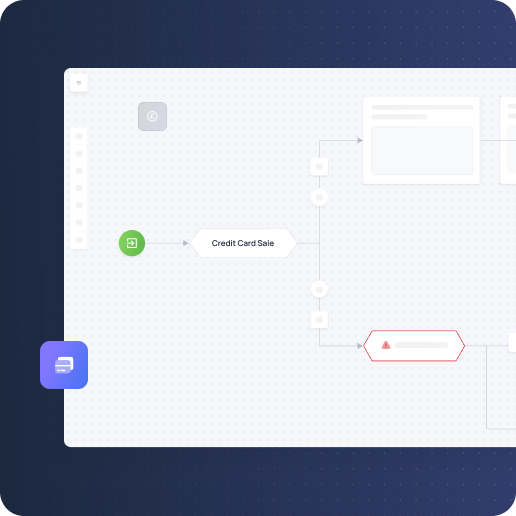 What are the benefits of
developing surveys


with the Eximee low-code platform?
Collect relevant and high-quality data
Take the right action to improve the retention of your high-value customers
Eliminate friction points to increase the adoption of your products and services
Win back churned customers by the immediate reaction to negative feedback
Monitor your customers' satisfaction and personalize their experience
Collect feature requests and test new concepts to deliver products that meet your customers' expectations

We appreciate that with the Eximee platform, we can develop modern sales scenarios in the digital world. An additional advantage of the Eximee platform is that it is a fully omnichannel application. Both our customers and employees work on the same application. It facilitates interactions between our employees and customers. I highly recommend it.
Marcin Łaziński
Manager of Omnichannel Experience Optimization Department, mBank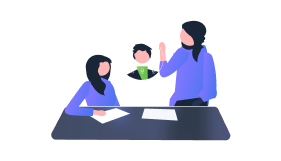 Step 1
Discovery meeting
We discuss the current state of your processes, digitization and automation capabilities, and possible solutions.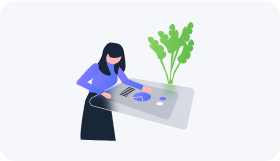 Step 2
Analysis
Together we choose the process to digitize and develop a plan.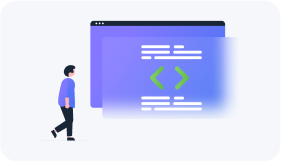 Step 3
MVP & Evaluation
We develop and implement the application, evaluate the results, and decide which processes to digitize next.